Inshallah, Ramadan will start on or around April 2, 2022.  We ask that Allah (SWT) make it a successful month for all the believers around the world.  At Crescent View Academy, we are excited to announce our Ramadan Programs designed specifically for you our community at large.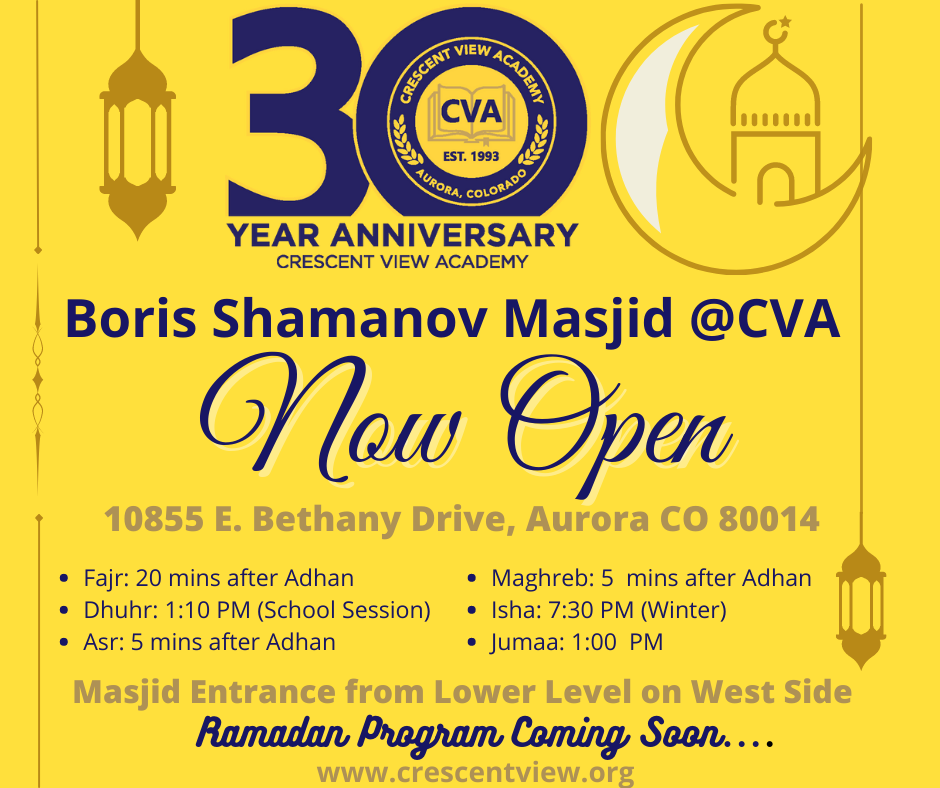 Daily 5 Prayers and Tarawih @ Boris Shamanov Masjid:  Join the 5 daily prayers with Imam Ammar Djebablia and Imam Shemsadeen Ben-Masaud.  Daily Tarawih prayers will be led by Imam Ammar Djebablia and CVA Huffaz. Witr will be led by Imam Shemsadeen Ben-Masaud.
Fajr: 30 mins after Adhan
Dhuhr: 1:10 PM (School Session)
Asr: 15 mins after Adhan
Maghreb: 5 mins after Adhan
Isha: 10 mins after Adhan
Jumuah: 1:00 PM
Boris Shamanov Masjid at CVA: Download Athan+ for prayer timings:  https://mymasjidal.com/app/
Daily Community Iftar at Zukhra Udenova Dining Hall (10855 E. Bethany Drive): The Z-Family kitchen is committed to providing daily iftars for community members (up to 80 people per day – attendees please sign-up in advance).  Daily iftars are sponsored by community members who are looking to provide meals to fasting community members.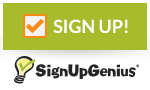 To sponsor an iftar, click on the link provided  or Daily Iftar Sign-up Sheet contact Anwar Zuraigat at anwarz@crescentview.org /510-509-5048. All sponsorships must be confirmed by April 1, 2022.  The cost to sponsor an iftar is $1500.00.  This can be by one individual or collective group.
NOTE: This service will only be provided based on the sponsorships. We are also looking for community member volunteers to assist our kitchen manager in the effort of iftar preparations.  Contact principal@crescentview.org or christine.majdoub@crescentview.org
Ramadan Bazaar: Saturday, March 26, 2022 12:00 PM – 5:00 PM $65.00 per table. For more information contact Mrs. Jennifer Komondy at (720) 899-6631.
Catering and Event Services:  During the month of Ramadan, the Z-Family Kitchen will be
able to provide catering services for pick-up and hosting events. Orders and arrangements must be confirmed 10 days before the date of event.  If you're interested in finding out how to host an event, please contact Christine Majdoub at catering@crescentview.org or call 303-745-2245 x. 1208
Eid Prayers: CVA will be hosting Eid-ul-Fitr Prayers at 7:00 AM and 8:30 AM. Takbirat will start at 6:30 AM and 8:00 AM.  Complimentary coffee, tea and pastries will be provided.
Ramadan Evening Events:  Visit our www.crescentview.org regularly to find out about daily events and activities during the month of Ramadan.